The team at Slightly Quirky totally transformed our lounge and master bedroom into stylish, cosy and inviting spaces. Their attention to detail and creativity were second to none, and their customer service was top-notch. From concept to execution, they knocked it out of the park. Every aspect of the project was executed flawlessly, from the initial consultation to the end of the work. The designers listened to our vision and transformed it into a reality that exceeded our expectations. They were able to seamlessly blend our personal style with their expertise in design, resulting in a space that is both functional and aesthetically pleasing. Their use of colour, texture, and lighting was masterful, creating a warm and inviting ambiance that is truly a joy to come home to. The carpentry work was immaculate. The custom built feature walls, the wardrobes, drawers and cupboards were precise and added elegance and sophistication to the rooms. The tradesmen were skilled, professional and considerate, and took great care to ensure that every detail was executed to perfection. Their craftsmanship was truly exceptional, and we were impressed with their attention to detail and the quality of their work. So good …. we're going for phase 2 !
The entire Slightly Quirky team were absolutely brilliant and I could not have managed the refurbishment project without them. It was a major task including designing an extension, liaising with architects and builders, redesigning the whole interior, fitting a new kitchen and 2 new bathrooms. Katie and Caroline helped me every step of the way. They were incredibly patient as we worked through every inch of the house, and came up with gorgeous ideas for the colour schemes, curtains and carpets, furniture and lighting. Less fun but probably more important, they were extremely practical in helping the house as a whole to function on a day to day basis, and to flow cohesively throughout, making my home both attractive and really easy to live in. Slightly Quirky were also able to help me realise my own design aesthetic- they listened to my hopes and wishes for my new home and then helped me to interpret them in a fresh, modern way. They were also very empathic when it came to deciding which pieces of existing furniture would work in the redesign, and which (sadly!) had to go. Not always easy choices, but they helped me to be bold and brave about it, and I am very grateful that they held my hand through that process too. When all the building work was done, Caroline and Katie spent time with me working out where to hang my existing pictures and how best display the art and book collections. They were amazing and I can highly recommend them. I was almost sorry when the project ended, as by then they felt like old friends!
We turned to Slightly Quirky having liked their influence on a friend's property. Although our remit was only for our living room, SQ enthusiastically embraced our project - they motivated us and kick started our thinking. After an initial visit, they returned with a Mood Board. We liked most of their ideas and the finished product was the result of a combination of their and our own ideas. We were thrilled with our newly re-upholstered sofas and window seat, and in particular their suggestion of the coffee table around which the colours of the room developed. We would not hesitate to recommend Slightly Quirky. We hope that SQ goes from strength to strength, and we wish you all well, With kind regards and our thanks to all involved in our project.
This little note is long overdue, but I was waiting until the carpet arrived… I just want to thank you for your expertise and intuition in designing my bedrooms and living room. The fabrics are just outstanding and I am so thrilled with the colour schemes that have been chosen… in particular, I love the headboard in the guest bedroom and get so many compliments on this room… And Katie, you did such a great job in choosing the bed linens and pillows… I love the fabric for my own bedroom window which seemed to be a difficult one to get right , but we got there… and I definitely love the teal fabric on my wall with the burnt orange accents… It's just so warm, and of course, these colours complement each other… In my living room, I could not have imagined drapes that match my decor better than the fabric that you chose… I also love my couch fabric as well. The bathrooms are just beautiful and I get so many compliments on the tiles that you have chosen…it's so rich looking. The design of the upper floor bedroom / bathroom has worked out so well… The space is now utilised, and I love my shoe rack… It actually holds about 100 pairs of shoes… What woman wouldn't love that? The wardrobe units have given me the space that I need for all of my clothes, shoes, necklaces and handbags. And of course the construction team was amazing; it's rare to find a company that actually finishes when they say they will while being flexible at the same time… Anyhow, I am thrilled with the work that has been done and I look forward to stage two sometime in the near future. Thanks Again to the talented Slightly Quirky Team. Well done!
The team at Slightly Quirky supported us for our full house refurbishment project. Their inputs and designs were always considered, thoughtful, practical and keeping to your requirements and constraints. Their partner team was builders and joiners are very skilled and have delivered a good build. A special shout-out to Katie who made sure that the procurement of items was as easy and seamless as it could be for us. The team visited us often, often at short notice during the build and spent hours interacting with the builders, joiners, contractors to ensure that the job was done to a high standard. On their 17th anniversary, I hope they go from strength to strength. I cannot recommend them highly enough.
Michael and Vickie, Albury
The Slightly Quirky team have been beyond exceptional throughout our recent project with them. Unfailingly courteous, efficient, fun, thoughtful and inspirational. Would recommend HIGHLY to anyone wanting superb service, fresh ideas and professionalism.
Slightly Quirky designed our beautiful new en-suite shower room . Their design was better than anything we would have thought of. They took all the hassle out of it for us including introducing us to the builders they regularly use who were excellent. We are really thrilled with the result. Highly recommend.
We've been absolutely delighted with the design, help, coordination, patience and style that Slightly Quirky brought to our new home. I've never used an interior design service before and as such I interviewed and researched many designers across London and Surrey, but it was obvious from the first phone call that Caroline, Deborah and Katie were the team for us. They designed the whole of our ground floor main living accommodation - we now have a beautifully designed house which impressed and works for us yet does not look "like a hotel" or a magazine - but a home. Very client centric in their approach, but unafraid to give their point of view to ultimately get the best out of us and our home. The whole experience was seamless and easy from mood boards, design concepts, procurement and even sourcing some special artwork for us through their network. I've already asked them to come back and start helping us on the next project with us upstairs…!
We are absolutely complimentary of the work of the Slightly Quirky team. Thanks again for everything - the responsiveness, fully take on our brief to come up with the beautiful style, and making sure we could move in by our agreed timing.
We are absolutely delighted with our room designs by SQ. The outcomes are exponentially better than what we could have achieved ourselves and what we expected by working with them. We thought we wanted modern contemporary rooms. We got so much more than that, we now have beautiful rooms that are distinct and reflect who we are as a family. To get a really good outcome, we had to let ourselves go and get onboard with the journey that SQ guided us on. They consulted with us to understand us as a family, who we are and what we like. Then we stood back and let them work their magic. And it is magic. Because great things happen when you put great responsibility in great design minds. We never would have imagined owing and loving a Mustard yellow sofa. Building a rich Drummond red media unit. Fitting acoustic wood panels to the wall. It would have been so easy for us to turn away from the individual bold design choices suggested and for us to try and actively pick the direction of travel. I am clear in my mind that it would not have resulted in such a good outcome if we did because it's a complex jigsaw to bring together a magical room and that's what SQ are brilliant at. If you want a brilliant outcome, stand back, let them deliver that to you. Sure, you need to pick between a couple of choices they give you. But if you move in the direction they recommend and go with it all then what you can get is jaw dropping results. SQ have a 'secret sauce' that they use to design a magical room for you. If you are talking to them, you are lucky. You have found a very good partner to work with. Now you are in the know, what are you waiting for?
The team at Slightly Quirky were wonderful and their designs for our living room and kitchen were very in line with what we asked for. All of the builders that they recommended were brilliant too and we were very happy with them. Would highly recommend Caroline and the team!
Incredible refurb in my mother's house. Such professionalism and quality.
We have worked on many exciting upholstery projects with Slightly Quirky, we can highly recommend their services for all your interior design needs. They have a very friendly yet professional approach, covering every little detail for their clients requirements. It is always a pleasure working with these lovely ladies.
Having worked on a number of projects, I am very pleased with the quality of work and the way they get stuck in to the brief! Very pleased with the results.
Would highly recommend! We have just finished a full house refurb. Caroline and Deborah were a pleasure to work with - they instantly knew the feel we were going for, and opened up some ideas that we would never have considered on our own. Needles to say we are very pleased with our finished result, and very glad to have had their expertise guide us through the process.
The team really helped us create our dream home! Their ideas and creative insight is so valuable and we couldn't have got to where we are now without them. All their ideas are unique and they understood what we wanted from the outset. Couldn't recommend highly enough.
I can't praise the Slightly Quirky team enough. Their dedication and support during a whole house renovation was excellent. Being a complete novice to both design and delivery we were looking for a guiding hand to help us step outside of comfort zone to produce something amazing. Slightly Quirky delivered! From the initial consultation to completion the team took great care and attention our preferences and requirements. They were excellent at showing us a range of options of both taste and price to ensure we got the right thing. Not only were their designs stunning but the service they provided during the whole project was outstanding, as if was their own home. I would not hesitate to highly recommend Slightly Quirky and we'll certainly be using them for any future design needs we have. It's also mentioning their recommendations for trades such as builders/decorators/curtain makers etc were also excellent and we're very glad we went with their suggestions.
Vidu & Andrew, Canary Wharf
Caroline, Katie and Deborah were all amazing! We wanted our place to bring the outside in, to which they delivered to! We were probably not the easiest of clients as I wanted more modern items and my husband wanted more comfy ones! Worlds apart! But the slightly quirky team found the perfect blend and made everything look amazing! We absolutely love our home that has been done up. Caroline's creativity, Deborah's determination and Katie's organisation skills were just a few of the elements that was brought to the table that we loved. I don't know how they did it - but it all comes together nicely. If we were left to own devices, we wouldn't have got anywhere as nice. They were able to mix together different textures and colours in which we wouldn't have even thought about. They also helped sort out any issues with delivery/furniture and they made it so easy and pain-free! Its been fantastic working with them. Definitely recommend Slightly Quirky for anyone thinking to do up your house or flat! They are such lovely people and they work to your needs (no matter how weird they are! :)). Thank you sooo much for everything you did for us 🙂 Till the next place 😉
I found the whole team very supportive and knowledgeable. Caroline spent huge amounts of time helping me to choose all the furnishings for our sitting room, coming up with a wide range of options. I am really pleased with how it's all come together, the colours all work and it feels like our space - something that was really important to me, I was concerned that by using a designer it may not felt entirely mine but I needn't have worried. I would highly recommend the team to anyone undergoing a new project.
Slightly Quirky were a brilliant team to work with. They helped us realise a transformation that we would never have had the vision or confidence to achieve without them. They provided a brilliant service throughout - flexible, honest and professional. They also recommended exceptional tradespeople and suppliers who delivered a quality finish which again we only dreamed of achieving.
Chris and Kate, Bourne End
Slightly Quirky are a brilliant team to work with - we were doing a large extension and renovation to a Victorian home which needed to balance old and new. We were keen to use colour and get ideas on how we can make our home feel authentically ours - but worried that we would mess it up. Caroline and Deborah understood what we were looking for and gave us a great pallet of colours and internal decor ideas which we've enjoyed implementing. We'd highly recommend the team.
Caroline and I struck up a good rapport from the start, which gave me confidence that she understood me and my style as well as the constraints of my project. She was thoughtful and enthusiastic. I am delighted that I have gone with her to design my new office.
Caroline and Deborah came round to talk space planning with us. We had a 2 bed flat, and with their advice have ended up with it all changed into a 3 bed, 2 shower room flat. Very creative and professional. Brilliant result for us... Thank you for your design ideas... it's transformed the space and how we use it.
The Slightly Quirky team are a talented, proactive, sensitive to budget and engaging professionals. They have excellent contacts in furniture manufacture, upholsters and even art installation to facilitate the completion of the decorating job with attention to expert craftsmanship and cost. Slightly Quirky work with large interior design projects and are always willing to help with smaller jobs, such as decorating for the Holidays. I wholeheartedly recommend them to anyone looking to fulfil their personal interior design dream.
I can absolutely recommend Slightly Quirky! They helped me transform my tiny outdated flat into a lovely flat which I am now enjoying living in and proud to call my home. They had fantastic ideas and great solutions for how to make the best possible use out of all the rooms and had genius ideas on how to create more storage without losing any space. Caroline and Deborah are so lovely, I was looking forward to meeting them every time they came around to discuss the design/ different options and layouts. They care about each project just as much as their clients do 🙂
Steve and Laura, Godalming
We were completely lost with the renovation of our six bedroom Victorian house until SQ helped us bring all our ideas together cohesively! We asked them to push the boundaries of colour and create an individual and modern interior, a brief into which they definitely delivered. They happily responded to our endless requests for different ideas for wallpaper and colour schemes, while helping with well thought out room layouts and lighting plans which has really bought our old tired house into the 21st century. Friends have commented on how well the whole house fits together and flows as one project, whilst still maintaining lots of individual character and interest in every room. Thanks team!
Alan and Jeanette, Godalming
We had never used interior designers before but would have no hesitation is commissioning Slightly Quirky again...if we had a bigger house! What we were looking for was someone to take us outside our comfort zone (we have pretty good taste but safe). When Deborah and Caroline came to the house, they came up with the idea of taking colour inspiration from 2 vivid paintings we have in the living room; and matching the colour scheme accordingly. This has resulted in much more colour in our reception rooms but nothing daft. The only room where we agreed to go all out 'Slightly Quirky' was the cloakroom and despite my misgivings it looks ab fab!! And a number of our friends have said so. My thanks to Katie also, who kept all the orders for re-upholstery to lighting etc. on track; and of course, made sure we paid promptly (would be a smiley - if I could find one!) So, thanks to the SQ team who I can recommend unreservedly. Alan xx
We live in spacious 3 bed apartment over-looking the Thames. My husband is a recovering stroke patient and we moved from a Victorian house with four floors to escape from the stairs. It was the view that took our breath away and which was the deciding factor, we didn't think too much about how the space would work for our differing needs. The living/dining area had window seats with cupboards under for storage, but they never really worked for us, as they were a bit high. That space was not really used by us and the dining table didn't fit in the space well. There was only 1 reception space which was difficult as we both wanted to use the space differently; he likes watching television and I like to have friends for coffee. In addition, the guest bedroom also had to be used as a study which was inconvenient when friends came to stay. Then Caroline and Deborah from Slightly Quirky appeared, having been referred by my daughter whose Georgian house they had transformed. After a bit of measuring up in every room and a few strokes on the keyboard, a simple and elegant solution materialised- essentially 2 walls! The living area was partitioned into two, creating two very functional, yet, still spacious areas that could be fully utilised by us both. The partition wall had wide, sliding, sound proof glass doors that mirrored the existing doors between the living area and the kitchen. This created a TV area with a small sitting area for my husband. The second room, which could be accessed either from the kitchen or the TV area, became a comfortable sitting room; perfect for relaxing with family and entertaining friends. The second wall was built as a semi partition in the main bedroom, creating a corridor with huge wall space for books and files. A wall of shelving and work surface was moved from the little spare bedroom and relocated there. I thus still had a study area, but gained a proper guest bedroom, with a normal bed and other furniture. Some simple but creative ideas from Slightly Quirky aided by clever space planning to ensure that the rearranged furniture and fittings actually did fit the new areas, made our home work for both of us.
Nick and Katie, east Sussex
It was a pleasure working with the SQ team from start to finish. Creative ideas and strong opinions, but also willing to listen and to work with us to make sure we got what suited us. We have the same house but a new home that we really love - and it met the budget we set. Can't ask for more than that. Great people to work with and highly recommended.
Caroline & Deborah are a great team and really compliment each other. We knew the look we wanted to achieve from the outset but would never have been brave enough to do it without Slightly Quirky & their expertise. They pushed our style boundaries, sourced beautiful products from a range of prices, spending money on the right items. They took all of our feedback on board and the end result is outstanding. We are so proud of our home, every day it makes us smile. Without hesitation I would recommend Slightly Quirky.
I have wasted so much time and money over the years trying to create a particular look for my home, but no matter what I did, I always fell short and never quite managed to achieve what I had set out to do. Having downsized a few years previously, I still owned the over-sized furniture from my last house and my home was in desperate need of a revamp. Then along came Slightly Quirky... Having discovered their details on Houzz, I narrowed my choice of Interior Designers to 3 and Caroline and Deborah were the first ones to visit. From our initial meeting I just loved their enthusiasm and abundance of ideas and had no doubt in my mind about using their services. It made no sense asking for help if I wasn't willing to take on board their recommendations, so I respected their judgement and gave them free reign to re-design my living and dining area and they did not disappoint. The process from the initial meeting, to receiving the concept boards was very exciting and once the work commenced, I could clearly see their vision taking shape. Slightly Quirky have some amazing contacts who captured their bespoke designs with precision and the first thing anyone says when they enter my front door now is "Wow"! I love the way they have fused the rustic feel of the exposed brickwork with the modern pieces and built-in furniture. Everything they have chosen and designed is beautiful, but if I had to choose one thing that stands out, it would be the corner storage bench with the integrated led lighting - it's one of my favourite details. Lack of storage was a huge issue for me, so the bench now nicely houses a lot of my clutter. I have learned so much since the project began and am more open to experimenting with colour and texture. If I have an idea about something - I will always run it by Caroline first and take on board her advice. Nothing beats the feeling I get when I open my front door - I love my home and it is all thanks to these amazing ladies
Martin and Liz, Shepperton
We took to Deborah and Caroline immediately; their enthusiasm is infectious. Their relative skills - both creative and practical - complement each other very satisfactorily. They listened carefully to our wishes and requirements and produced initial designs that were bold and suited our personalities. Slightly Quirky also oversaw all the implementation, working with very good quality suppliers who, like them, paid attention to details. It is not always true that designers maintain interest right to the end of a project but this is not true with Slightly Quirky. We are thrilled with the final result. Budget control was good and increases were a result of our scope creep. Subsequently, we asked them to come up with some ideas for our teenage daughter's bedroom and their designs were very much to our daughter's brief - Slightly Quirky had been sympathetic to what she wanted.
We needed a full renovation of a one bed flat. I was looking for someone who'd advise on design but also manage the project. Caroline worked on layout changes, sourced materials, oversaw contractors and generally sorted everything out. All we had to do was make the occasional choice based on her suggestions. We're very happy with the result. We definitely recommend Caroline and Slightly Quirky. They'll be our first port of call for any future design and project management needs. Caroline was always a pleasure to deal with. We did end up about 15% over budget but that was due to a few enhancements to the original project that Caroline suggested and we decided to adopt - we could have kept the cost down had we chosen to.
Lorraine and Andy, Richmond
Deciding that our early Victorian town house needed a total refurb, but that it needed to be done in phases whilst we continued to live there. I invited Deborah to propose some ideas for the first phase. It was a great decision. As they say, Slightly Quirky's approach is not to impose one style but to work with the client to help them achieve something that is right for them. Our art collection, and the furniture & curtains I wanted to keep, were enhanced by whole host of ideas (some a bit outside my initial comfort zone) which have come together to create interiors that we love and that work for us. Slightly Quirky came up with great colour schemes, sourced furniture and accessories, designed some bespoke cabinets, liaised with the construction company, provided lots of logistical support etc, etc. Long before the end of phase 1 I had already asked them to help me with the rest of the project. I heartily recommend them - their ideas are fabulous and Deborah and Caroline are both a pleasure to work with.
Great and friendly service, always on time and within budget. Deborah and Caroline where my first choice. They provided colour schemes, chose upholstery recommended a wonderful decorator and made sure the furniture would fit through a small hallway and even hunted down vintage chairs for me in the early hours. I could always rely on their professional know-how. They helped create a warm, calm and cosy family base in a very busy part of London, not without leaving their "slightly quirky" touch.
Caroline & Deborah were instrumental in visualizing a new perspective to our living room redesign. They worked with us, understanding our needs & tastes in providing four design options. Their drawings were accurate along with the 3D visualization it helped us make the right decision. They combined a good balance of creative flare and practical necessities that we wanted to achieve through this project.
Chas and Chris, Worcester Park
Deborah and Caroline have done a superb job renovating our downstairs living space and the finished result is beyond what we could have imagined. Our initial meeting was to see if Slightly Quirky would be able to help us resolve the inefficient use of our living, dining and kitchen spaces. We were aware we needed to remodel the space, but did not know whether this work required an extension or not, leaving us in a quandary on how to proceed. Deborah and Caroline listened carefully to our dilemma and the requirements we were hoping to fulfill, and in response, provided us with a number of options (visual drawings) and their thoughts. An extension was not necessary, but with the help and vision of Slightly Quirky we have successfully remodelled our entire downstairs living space to something that feels more like a family home, with no un-used areas. Also, money saved by not extending allowed us to redesign our downstairs w/c and give me the ultimate pantry cupboard. Deborah and Caroline took charge of room colour schemes (paints and wallpapers), textures, floor tiles, and even the designs for bespoke items of furniture. They delivered on all fronts whilst also complementing existing colour schemes. Throughout the process, both Deborah and Caroline were fantastic. They were patient listening to our requirements and changes, considerate, professional and full of superb ideas. All in all they have been a pleasure to work with, as have the building team they recommended to carry out the work. The best decision we ever made was to engage Slightly Quirky on our project – deciding how to use a space is far more important than knocking down or building new walls. Deborah and Caroline are an awesome team and great designers and we would be happy to recommend them and use them again and again.
Taylor and Joe, Roehampton
'We enjoyed working with this company from start to finish and intend to hire them again in a few months' time; service was professional and friendly, and we felt Caroline and Deborah really understood what we were looking for- from style to budget. '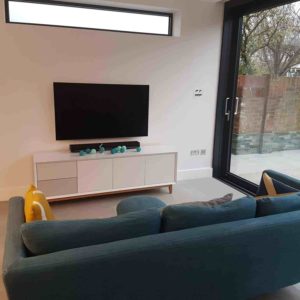 Hamish and Alison, Twickenham
'Slightly Quirky Ltd did the kitchen, lighting and interior design, for our kitchen extension, which formed the heart of a bigger building project. They were all very patient and a pleasure to work with. Deborah got us to try things we would not have otherwise tried and the end results were beyond our expectations. Meetings on site or at suppliers were always at times to suit us and nothing seemed too much trouble. All deadlines and budgets were met and they worked really well with our builders, despite having not worked together before. We were blown away by the end results and love our new space. We can't recommend them highly enough and would definitely use them again.'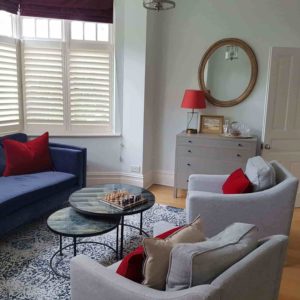 Elizabeth, Walton-on-Thames
'I wanted to let you know how happy we are with the room. You brought that room back to life and the house finally feels (almost) finished, with this room connecting the refreshed hallway and kitchen. I smile every time that I walk through. Fantastic service. Showed up immediately, listened carefully to brief, worked to a tight budget and stayed with me when I changed my mind (a few times). Everything I hoped that a design service would be. Professional, friendly, totally client focussed.'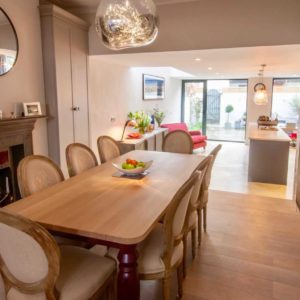 Victoria and Eoin, Highbury
'I hadn't thought about using a designer to help us, until I found Deborah's website and looked through her projects, all of which seemed so personal to the owners. Deborah came to look at the house, and within 5 months, she had completely transformed the downstairs into a space which we absolutely love. She was careful about budget, about listening to what we liked and timings. Plus, she was just an absolute pleasure to deal with at all times. If you are looking for a "Fairy Godmother" to make things better, as I was, look no further. I really recommend Deborah, and would definitely use her again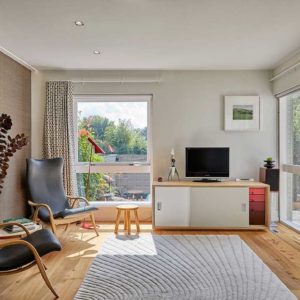 Carol and Cris, Taplow
'Deborah has worked tirelessly with us to develop and deliver a transformation to our 1966 rare example of Eric Lyons SPAN architecture, SQ injected a new life and design in a way that respects the original design and era, yet delivers an up to date home without loosing it's 60's heart. Deborah was able to come up with original ideas and fantastic attention to detail, which we either simply accepted or tweaked or enhanced based on our own ideas'.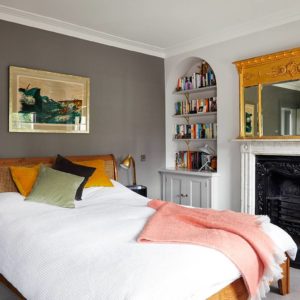 Kate and Nick, Chiswick
'Deborah has done a fantastic job helping us renovate our home. Right from the start 'got' our style very quickly and was brilliant at recommending new ideas that we would never have thought of ourselves, but that we loved. She stuck very tightly to our budget but still found interesting, unusual and quirky things that have transformed our home. I couldn't recommend her highly enough!'
'Deborah captured my ideas perfectly and fine tuned them to become a stylish home for our family. Absolutely worth the money spent and I already recommended Deborah!'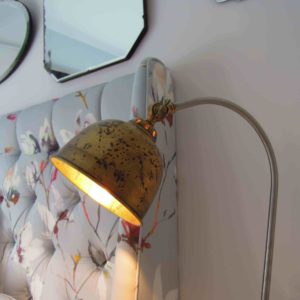 Laurie, Woking
'I can't recommend Deborah highly enough. I trusted her to deliver something that I wasn't brave enough or creative enough to do myself and she did an amazing job. She's a joy to work with'.
'Deborah had loads of brilliant ideas, recommendations and solutions to tricky problems. She's lovely to work with and for the amount of advice I got, her fees were very reasonable'.
'Deborah did an outstanding job in creating the best possible solution. She has redesigned the entire floor plan and lighting, and the result is fantastic'.
'I was impressed by the knowledge and creative ideas that was bought to the remodelling of my house. The help with builders etc. and made the job less stressful than it could have been'.
'Deborah came up with some super design ideas for my new apartment. I have been very impressed with Deborah's vision and professionalism'.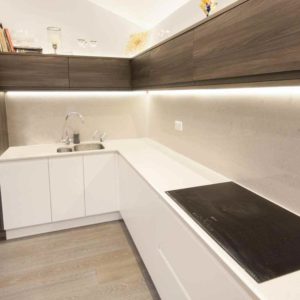 Lesley and David, Portobello Road
'A fantastic remodelling of my kitchen, bathroom and a bedroom. On both occasions she listened to what I needed and came up with designs that were both beautiful and gave me the changes that I needed'. We clicked straight away. Her input into the whole development became invaluable, to the point where every time I showed something to my partner he would ask if it had been 'quirked' before agreeing to it!'
Alix and Dan, Muswell Hill
'The response was brilliant. I was also able to approach them if l came across any pieces myself and needed reassurance that they would work'.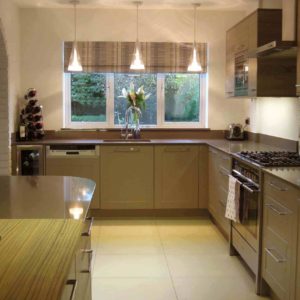 Lynne and Phil, Shepperton
'Deborah was fantastic from the moment I met her. She very quickly and accurately identified my likes and dislikes and incorporated these aspects into her amazingly creative design ideas'.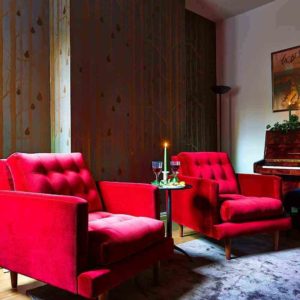 Caitlin and George, Palmers Green
'Deborah created an air of elegance but with an interesting twist – with a strong visual synergy throughout. Her designs are also practical: we now have good storage, excellent lighting and a terrific kitchen'.
Lucy and Andrew, Hampton Hill
'We have never used a designer before but from the first meeting we got on well and Deborah instantly understood what we were looking for!'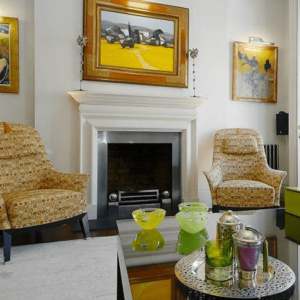 Alison, Knightsbridge
'I have hired Slightly Quirky for a few projects and plan to work with them again in the future. Deborah has an innate sense of design and colour and helped transform my house from bland to giving it a wow factor. She also organised for all of the work to be carried out including electrics, mirror installation, glass wall, bespoke wood work, soft furnishings, drapes, and painting. Furthermore she helped select furniture, fabrics, colours, wallpaper, light fixtures, etc. she is full of great ideas. I am sure she helped contribute to the property value of my house which sold within a week when it was time to move. I look forward to having her help transform my house again'.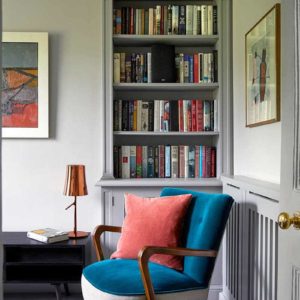 Anna Stathaki, Photographer
'I've recently photographed a project for Slightly Quirky in Chiswick and it was an absolute pleasure to work with them. Both Deborah and Caroline are very friendly and approachable people, professionals and knowledgeable in their field with great attention to detail and enthusiasm and great choices of fabrics. They had a clear vision of what they wanted to achieve which is always a massive help. They are great to work with and i would definitely highly recommend them. I look forward to working with them again on future projects'.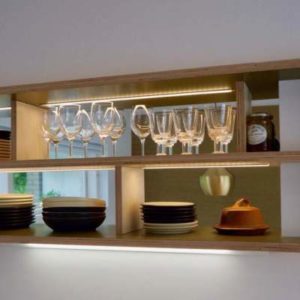 Karl Marrow Furniture
'We have worked with Deborah and the Slightly Quirky team for over 12 years on both small and large projects and they are always a pleasure to work with. Deborah's attention to detail and colour is fantastic. She listens carefully to clients' requirements and often approaches projects from a different perspective, coming up with designs which are not just the most obvious solution. She has a great comprehension of interiors and how to pull a scheme together through design, colour, material and texture. Slightly Quirky projects are interesting, often unusual and always hit the mark both in terms or practicality and style, as you can see by the selection of pieces below. We very much look forward to working on further projects with Slightly Quirky Ltd in the future'.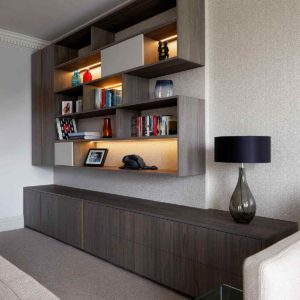 KUB3 Ltd.
'We have worked with Deborah and Slightly Quirky team for over 4 years and they are always a pleasure to work with. KUB3 LTD love producing furniture for them as their projects are interesting, unusual and well organised. If you require an interior designer with innate sense of design and great customer care then we strongly recommend using Slightly Quirky'.